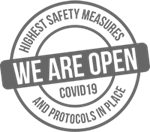 Covid-19 statement
It is always our top priority to keep our patients and dental team safe and we are proud to say that our cross infection policies and procedures have always been of the highest standard.
The Covid-19 pandemic has caused some new challenges and restrictions. We have taken on the challenge and our team has been busy learning to navigate the new normal in dentistry. Consequently, we have made some necessary adjustments in the way we work.
To ensure that we practice safely we have reviewed and updated relevant parts of our operating procedures. Some changes we have made involves long-term financial investments in new equipment such as upgraded air ventilation systems in the surgeries. Other changes to make our practice as safe as possible includes; pre appointment communication by phone or email, corona virus pre screening, a closed-door policy, only patients with confirmed appointments are invited inside. We also manage our daily diary so to allow enhanced hygiene processes and social distancing measures within each allocated appointment slot.
We are aware that this is an evolving situation, we follow closely all new information, and official Covid-19 prevention guidelines and we update and amend our procedures accordingly.
Our dental team is confident and ready to do what we do best, provide excellent and safe dental care to our patients. You can find out more about the extra safety measures we have introduced and what to expect next time you visit us by looking at our COVID-19 safety charter and our short video.
We thank all our patients for their cooperation and understanding during these challenging times.
Practice Opening Times
Our practice is open and our friendly reception team is available to deal with your enquiries during the following times
Monday:          09:00 – 17:00
Tuesday:          09:00 – 17:00
Wednesday:   09:00 – 17:00
Thursday:        09:00 – 17:00
Friday:              09:00 – 15:00