Second UK Lockdown – We are open
In light of the Government's 31st October announcement, we would like to let you all know that the Minister responsible for dentistry, Jo Churchill, has clarified that all dental practices CAN open during the second lockdown.
It is important to maintain good oral health during this time.
We know that our practices are one of the safest places to be and we have implemented strict standard operating procedures to keep you safe.  If you need to travel some distance to visit us, this is acceptable under the new lockdown rules and we will happily provide evidence of an appointment if you have any concerns about this.
We look forward to seeing you soon and will welcome you with a warm smile behind our PPE
THE RETURN OF DENTAL CARE: "THE COVID-19 PATIENT JOURNEY"
Dear Patient,
We hope this letter finds you and your loved ones in good health.
Thank you for all being patient and bearing with us during this incredibly challenging time in our profession. We are pleased to inform you that the practice is now open.
At first, we do expect that there will be many patients eager to come back and see us right away, so we will prioritise appointments based on patient need. Please bear with us if we cannot book you in as quickly as we normally would. To book an appointment, please give us a call.
You can find out more about the extra safety measures we have introduced and what to expect next time you visit us by looking at our COVID-19 safety charter and our short video.
The world and our community has been through a lot over the last few months and all of us are looking forward to resuming our normal habits and routines in a sensible manner. While many things have changed in our lives and workplaces, our values have remained the same.
The whole team at Abbey Dental Care are has been working hard to ensure that your visit to the dental practice will be a pleasant, effective, and most importantly a safe experience. Many of the procedures and protocols that were routinely part of safe delivery of dental care are already well developed and practiced at Abbey Dental Care.
Due to the COVID-19 pandemic we have upgraded many of these routines to ensure that we are offering you the latest in safe dental environments. The risk of virus particle contamination is managed carefully in all areas of the building and clinical room.
We are keen to prepare our practice prior to your visit as much as possible in order to limit the time you spend in the practice and to allow us to manage your dental problem efficiently and effectively while you are with us. We will endeavour to manage as much pre-visit admin and consultation with you over the phone and by email to streamline your actual onsite visit.
As per the Chief Dental Officer's recommendations, the sequencing and scheduling of patients for treatment as services resume will take into account:
The urgency of needs;
The particular unmet needs of vulnerable people;
Available capacity to undertake activity.
Rest assured, we have not forgotten about you but we will have to work through the list of patients as above.
Please look at the following Abbey Dental Care guidance that will help us look after you during your visit.
If you are unwell for any reason it is better for you not to come into the Dental Practice. If you suspect, you have symptoms of COVID-19 please stay at home and follow NHS guidance;
Appointments will be managed to allow for social distancing between patients and these will be staggered to minimise patients coming into contact with one another, and with longer gaps to allow for enhanced disinfection protocols
Please prepare yourself at home to have freshly scrubbed teeth using your routine oral hygiene measures. We will not be allowing last minute brushings at the practice during this pandemic to avoid cross contamination;
Please remember to bring any paperwork if you have been asked to (medical history questionnaire, consent forms, treatment plans, etc..) already fully completed;

ALL PATIENTS WILL BE SEEN, STRICTLY", BY APPOINTMENT ONLY; 

All payments will be taken via telephone prior to the appointment. In any case, please remember to bring your credit/debit card as we will not be taking any cash payments;
Our usual sitting room has been redesigned to be kept as clear as possible and guarantee social distancing.
Please do not arrive more than 5 minutes early to your appointment unless you have been requested to do so.
Please do not bring anyone with you into the building unless this person is accompanying a vulnerable adult, a disabled person or children. Please plan to keep siblings and other family and friends out of the building;
Please try to arrive cool and calm. Please don't run or race your bike to your appointment as your body temperature will be raised and you might appear feverish;
Upon arrival, before entering the reception area, you will be requested to disinfect your hands with hand sanitiser and a team member will unlock the door and use an infra-red thermometer to measure your body temperature. If you are feverish we will ask you follow NHS self-isolation guidance and to rebook your appointment for at least two weeks' time;
As you are invited into the building we might offer you a face mask that simply hooks over your ears and covers your mouth and nose. Our reception team are there to help you and will now be wearing a mask and behind a screen to protect their working environment;
We would like to request you to ideally use the toilet facilities prior to your visit to the surgery as we ought to keep you in the premises for as little time as possible after your treatment session;
Our team will be wearing various levels of PPE but we are all likely to, at least be wearing a mask as we greet you;
We will allocate a seat for you in one of our waiting areas and you will be requested to remain in that place until you are called into the surgery in order to maintain social distancing. Be aware, spaces in our waiting areas are limited;
We will then invite you into one of our surgeries which would have been thoroughly disinfected and sterilised with UV lights (in addition to conventional protocols) to guarantee the safest clinical environment. For treatments involving aerosols (most dental treatments), your dentist and dental nurse will be wearing some extra layers of PPE, don't be frightened.
You will be requested to place your personal belongings and coats in a box in order to minimise contamination of your clothing and other belongings with aerosols;
After our initial discussion during which you must keep your mask on, we will ask to take your mask off and use mouthwash for 1 minute. We will provide you with tissues to hold along with your facemask throughout the appointment. This is for you to be ready to catch a sneeze or a cough, to help in keeping the surgery environment clean.
Your dental appointment will be as normal except the room may be cool for you as we must have fresh air circulating in the room. Please come prepared to keep yourself warm with an extra layer and covered legs.
At the end of your procedure you can have the usual mouthwash rinse but please try to avoid splutter. You will then be requested to put your facemask back on before leaving the room;
We will direct you to one of our reception team members in order to finalise the check-out process and make further appointments as necessary;
All your treatments will be planned carefully and will be managed in a calm and extra safe environment.
To reassure you that I am doing my best to prioritise your safety and wellbeing, as well as our efficiency as a practice we have utilised the government loan schemes and heavily invested in the following measures:
New 3rd surgery to allow our clinicians to see as many patients as possible and to allow for the additional time needed for cleaning and decontamination
A leading air filtration and purification system that is able to trap and kill pathogens and has a 99.99% sterilisation rate
Additional safety measures for our team including protective shield at reception, enhanced PPE and improved workwear
Improved IT hardware and software to allow remote triaging and consultations, online form filling and remote document signing
We are following all guidance for 'best practice' and will be doing whatever is shown to be effective in improving safety and reducing risk. Despite the huge financial implications the practice has suffered during the forced closure of the practice, we have no intention of increasing our normal fees for the foreseeable future unless absolutely necessary for the viability of the business.
However, for the practice viability, we have to add two changes to patient fees:
Due to the huge increases in demand and worldwide shortages of PPE the prices for such items have increased in some cases up to 20 times. We appreciate that this has been a difficult time for our patients too and we believe it is only fair to share this additional cost together. For this reason we are adding a PPE surcharge to all appointments and this will be £10 or £20 depending on the type of procedure (non-aerosol generating vs aerosol generating – see below for examples). We expect this to reduce as prices from our suppliers go down and will be reviewing monthly.
Examples of Non-Aerosol Generating Procedures are an examination without air spray, digital scan, x- ray, denture treatment.
Examples of Aerosol Generating Procedures are anything that requires the air spray, any handpiece (drill), a hygienist visit, filling procedure, crown / bridge / veneer procedure, root canal treatment, dental implant or surgical treatment.
 We can't wait to see you all again soon and are happy to answer any questions you may have about the steps we take to keep you, and every patient, safe in our practice.
Our phased reopening will initially prioritise patients with urgent or emergency issues, followed by our patients who are mid-treatment. We are increasing availability of appointments with longer days and additional sessions being worked by our clinicians to help cope with the backlog of appointments and the necessary gaps between appointments for social distancing and enhanced cleaning.
We will continue to be available out-of-hours for our patients and if a nurse is available we will also offer a physical appointment where necessary. At the very least we will offer advice, a remote prescription and aim to provide an appointment within 24 hours.
Should you require an appointment please contact the practice via phone, website, email or social media.
PLEASE DO NOT ATTEND THE PRACTICE UNLESS YOU HAVE AN APPOINTMENT.
We would like to thank you for your patience, understanding and supporting our practice during this exceptionally challenging time for us all. We value your trust and loyalty and look forward to welcoming back our patients and friends.
Thank you very much for your cooperation during these difficult times
The Dental Team @ Abbey Dental Health Centre
Practice Opening Times
Mon: 9.00am - 5.00pm 
Tues: 9.00am - 5.00pm
Wed:  9.00am - 5.00pm
Thurs: 9.00am - 5.00pm
Fri:  9.00am - 4.30pm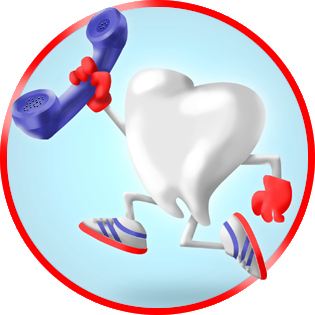 Same Day
Dental Emergency Service
Call us now: