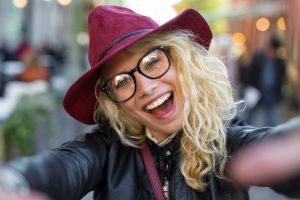 Today, how you look is more a matter of choice than genes and it is no different when considering your choice of smile.
We all want healthy teeth and gums, fresh breath and the confidence and comfort to choose whatever we would like to eat. But we also want to smile freely, with poise and the assurance that our smile does what it is meant to do: to present and represent us; to be an attractive and welcoming feature.
Very often our patients indicate that they would like to improve the appearance of their smile. They may feel that their teeth are discoloured or stained, that their smile is too "gummy", or they may even just wish they could start all over again with a great new smile.
Cosmetic and aesthetic dentistry can help with all of these problems.  Sometimes patients only need a relatively simple and affordable treatment, at other times they may opt for a complete smile makeover, where we use a number of treatments together to provide them with the smile they have always wanted.
A smile that perfectly suits your face and makes you look youthful, happy and confident. Who would think that going to the dentist could get your friends and family asking why you look so great? We offer a range of treatments geared specifically towards perfecting and boosting the beautiful smiles of our patients.
We know that a beautiful smile can really boost someone's self esteem but are passionate about our approach which ensures a smile looks natural, rather than artificial. We ensure that porcelain veneers or crowns match the patient's natural colour and are bespoke to their smile. From dealing with crooked teeth, providing veneers, crowns or teeth whitening, contact us to discuss your specific needs.
Our cosmetic and aesthetic treatments include:
White cosmetic fillings
Veneers
Crowns
Bridges
Tooth whitening
Orthodontic treatment
Plastic periodontal surgery
Dental Implants
Dentures