Missing teeth can cause a range of problems, from cosmetic stigma associated with a gap in your smile, drifting and movement of adjacent teeth to speech problems. Luckily, implants are now relatively easy and can look indistinguishable from your real teeth, provided you have them installed by a skilled practice like Nordea. We implant teeth within the bone, making them structurally identical to their natural counterparts. This can protect your bone, maintain tooth alignment and avoid facial changes.
What are implants?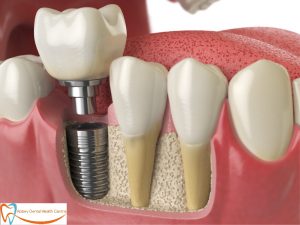 Dental implants are highly realistic, permanent replacement for one or more missing teeth.  They look and feel very natural and enable you to eat and speak with confidence as well as improving the way your smile looks.
The implant itself is a small titanium rod which is precisely set into your jawbone.  Over time the bone and implant bond together forming a strong and permanent base very much like a false tooth root.
Implants can have crowns or bridges fitted on top, replacing one or more missing teeth.  Patients with many missing teeth can be fitted with special dentures, held firmly in place by implants, thus making it much easier to eat and speak without embarrassment.
At Abbey Dental Health Centre, we offer guided implant surgery. This involves taking a CT scan of your jaw area so we can ensure that before surgery you have sufficient bone tissue for an implant and can plan the implant placement with pinpoint accuracy. Where there is inadequate bone tissue we apply the treatment to regenerate the missing bone tissue using a variety of techniques (including bone grafting from other sites) when necessary.
Dental Implant services we offer include:
Implant placement
Prosthodontic restoration: Crown, bridge or denture
Bone regeneration
Bone grafting
If you decide to go ahead, this is what will happen.
Implants are put into holes in the jaw with a local anaesthetic. You can opt to have sedation for this procedure also.
The implant is screwed or pushed in and the gum is stitched so that it heals over the implant
Under the gum. the bone then grows round the implant to hold it firm. This takes a few months.